Government Support for Investment
The main law, regulating the investment activity in the Tomsk region is the Tomsk region act of March 18, 2003 No 29-ОЗ on the "Public support of the investment activity in the Tomsk region", stating that public support from the Tomsk region authorities is for the regions with investment activity in the following projects:
complying with the priorities of social and economic development of the Tomsk region;
providing enhancement of tax base;
creating jobs, including high efficiency, and/or retention of highly efficient jobs in the Tomsk region.
Possible forms of public support of the investment activity in the Tomsk region:
provision of additional tax benefits and change the tax payment term in the part paid to the regional budget

;

provision of state guarantees as part of proper performance of obligations of investment activity subject, arising while executing investment projects before beneficiary

granting of subsidies for purposes of compensation of expenses in connection with manufacture (realization) of the goods, performance of works, rendering of services within the framework of realization of investment projects;
lease privileges for the property in public ownership of the Tomsk region and necessary for the execution of the investment projects;

provision other, non-financial support including information and consultancy support of the investors within the powers of Tomsk region authorities and pursuant to the law in action

provision of budget investments;
decision-making on the compliance of a large-scale investment project with the established criteria for the purposes of provision land plots for lease without auction.
Decision for the public support and its conditions is made by the Coordination Council for the support of the investment activity and provision of state guarantees (chair – Gurdin Yuri Mikhailovich, deputy governor of the Tomsk region for the investment policy and property relations) based on investor's application and expert statement, as well as statement of structural unit of the Tomsk region Administration office or other executive body of the Tomsk region authorities, recommending investor for state support.
Regulation on the council and its composition are approved by the Decision of Tomsk region governor of May 27, 2003 No 120.
The procedure for investment project expert review, the list of documents, necessary for the expert review, estimation method for budget and social efficiency of the investment project and conditions for the provision of the state support are approved by the decision of the Tomsk region governor of June 04, 2007 No 294-р "On the procedure for expert review and estimation method of investment projects efficiency".
The investment projects in Tomsk Region are supported according to a one stop principle (Directive of the Governor of Tomsk Region dated October 17, 2013 No. 384‑r On Approval of the Procedure for Support of Investment Projects according to a One Stop Principle in Tomsk Region).
The following forms of support of the investment projects are provided for:
1) informational and consulting support of an investment project;
2) organizational support of an investment project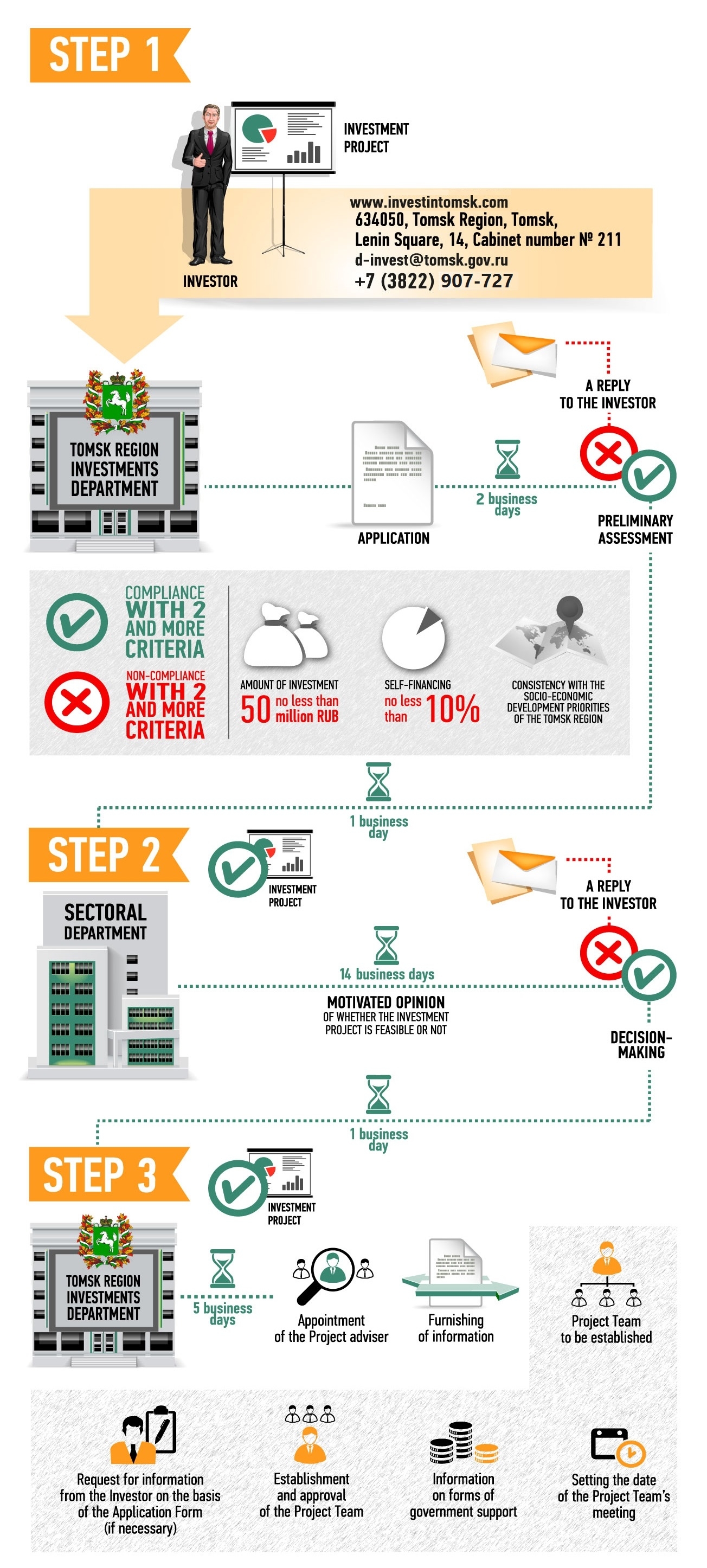 Date of update: 17.05.2019
Printable version